John Gokongwei, Jr. receives ASEAN Legacy Award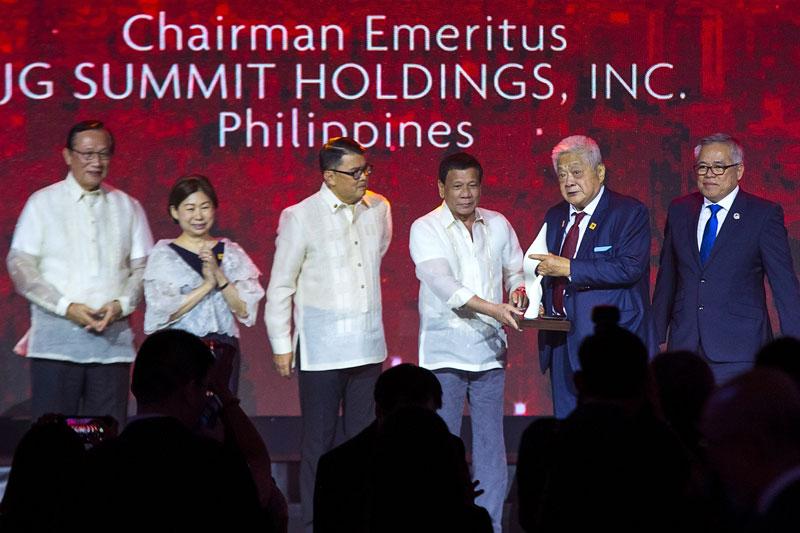 John Gokongwei Jr, a pillar of Philippine business, received last September 6, 2017, the prestigious Legacy Award from the ASEAN Business Advisory Council (BAC) for his key role in the growth of micro, small, and medium enterprises in the Philippines and Southeast Asia.
The Legacy Award recognizes iconic entrepreneurs who have served as inspiration in advancing entrepreneurship, which is key toward achieving genuine inclusive growth and sustained prosperity in ASEAN.
It is also given to businessmen who have passionately committed themselves to growth and excellence while significantly contributing positive impact to the ASEAN Community.
"These entrepreneurs set examples by standing the test of time, surpassing challenges, and inspiring others through their successes and triumphs," said ASEAN BAC chair Joey Concepcion.
Gokongwei built JG Summit, the Philippines' second-largest family-run business, from a modest trading business he ran on a bicycle in his native Cebu, after his father died, during the Japanese occupation that began in 1942.
As the war drew to a close, he broadened his inventory and used a sail-powered outrigger to trade goods in Manila and Lucena.
By the time the Americans reclaimed control of the Philippines, he already had enough money to travel to the United States to buy used shoes, clothing, newspapers and other secondhand goods that he would then sell at a small storefront he rented in Cebu.
In 1954, as his trading business faced difficulties because of import controls, Gokongwei branched out into cornstarch production. This was the start of Universal Robina Corp.
That business quickly has grown into JG Summit, a vast conglomerate with interests in air transportation, telecommunications, banking, food, power, and property. Today, it has a market capitalization of US$13.2 billion.
"For aspiring and young entrepreneurs, Mr. Gokongwei is definitely one of the idols in the business community. I'm sure many entrepreneurs today admire his wisdom and passion," said Concepcion.
The other Legacy Award winners are Haji Musa Bin Hj Adnin, Adinin Group of Companies (Brunei); Sudhamek AWS, GarudaFood (Indonesia); Rattana Prathoumvan, EDL Generation Public Company (Laos); Goh Peng Ooi, Silverlake Axis Limited (Malaysia); Aung Ko Win, Kanbawza Bank (Myanmar); Wee Cho Yaw, United Overseas Bank (Singapore); Sakchai Unchittikul, Srichiengmai Industry Company (Thailand); and, Le Thu Thuy, BRG Group (Vietnam).
Media Inquiries and Public Relations
Viveca Singson
viveca.singson@urc.com.ph
TERA Tower, Bridgetowne, E. Rodriguez Jr. Ave. Ugong Norte, Quezon City Metro Manila, Philippines